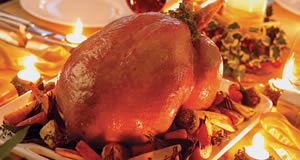 Punch and other beverage recipes
These are so cute!
Oreo Turkeys
Corn Husk Cupcakes
(Jelly beans)
My favorite variation is:
use only unmarinated hearts and cut into bite size pieces/probably in half. 
Use Panko Bread Crumbs.
Make a butter sauce with lemon juice and some garlic powder (to taste) and drizzle over top of hearts when drained and top with Parsley flakes along with the Parmesian cheese.
Always a big hit!
Turkey Vegetable Tray